Medical Student Opportunities
Medical Student Opportunities
The Child & Adolescent Psychiatry at UC San Diego offers wonderful 4th year experiences for medical students
Visiting Senior Students
UC San Diego School of Medicine welcomes eligible senior visiting students in our senior electives as space permits. Contact: visitingstudents@ucsd.edu
Child and Adolescent Psychiatry Inclusive Excellence Workforce Program
The University of California San Diego is launching a four-year program to expand the pipeline of Child and Adolescent Psychiatrists (CAP) in California. This program will offer novel learning opportunities, individualized mentorship, and financial educational support for participating medical students. Together, these initiatives will build a stronger community of trainees pursuing careers in Child and Adolescent Psychiatry, and ultimately help create an inclusive, skilled workforce representing the changing social, racial and economic demography of California's children, youth, and families.
In order to achieve health equity and reduce disparity, we hope to expand our pipeline and create an inclusive workforce of Child and Adolescent Psychiatrists. Patients deserve to receive psychiatric services from professionals who understand, embody, and respect differences in culture, ethnicity, race, gender, sexual orientation, language, religion, spirituality, background, personal identity, class, ability status, and experience.
Contact
Medical Director
Desiree Shapiro, M.D.
dlshapiro@health.ucsd.edu
Summer Immersion Program Launching in 2020
An innovative program will be launching in the summer of 2020 for a select few medical students interested in exploring the exciting career of Child and Adolescent Psychiatry. This summer experience will provide the following:
Engaging didactics on introductory topics in pediatric mental health, cultural empathy, and health equity
Individualized and personalized mentorship
Introduction to careers in Child and Adolescent Psychiatry
Exposure to the child, youth, and family mental health system of care
Youth Community outreach and education
Scholarly project in pediatric psychiatry
A competitive summer stipend
2020 Child and Adolescent Psychiatry Inclusive Excellence Award Winners
Sejal Patel, M.D., M.Sc.
Sejal has demonstrated an enduring passion for mental illness and psychiatry, initially sparked by her former high school student who suffered from bipolar and substance use disorder. Her zeal for mental healthcare was furthered by her PTSD clinical research among combat marines and serving as Psychiatry Free Clinic Manager during her medical training at UCSD, and ultimately, solidified in her clinical and volunteer experiences with each patient she encountered as a third and fourth year medical student. Sejal has also exhibited a lifelong commitment to working and collaborating with underserved populations and communities, particularly at-risk youths. She enrolled at UCSD SOM as a Program in Medical Education in Health Equity (PRIME) scholar to develop the necessary skillset with which to pursue a career in combining her love of teaching and mental health advocacy with psychiatric practice. During her PRIME Master's year, she obtained a Masters of Science in Child and Adolescent Mental Health at the University College of London not only to hone her clinical research skills, but to obtain a holistic understanding of the psychological, sociological, and anthropological underpinnings of mental health care. Her dissertation focused on the utilization of peer-led interventions in the global treatment and prevention of mental illness among youths aged 10-19. As a future psychiatry resident and child and adolescent fellow, Sejal strives to partner and collaborate with educational institutions, community leaders, and healthcare professionals to generate a comprehensive platform with which to provide pragmatic, equitable and accessible mental healthcare for youths and adults alike.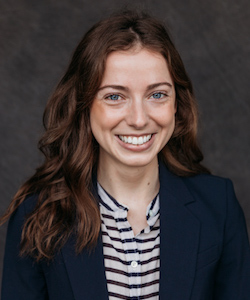 Zoey ZoBell, M.D.

"I am so thrilled to have been selected as a recipient of the UCSD CAP Inclusive Excellence Award and honored to be joining UCSD's residency class of 2024! My goal as a future psychiatrist is to provide excellent, compassionate, and culturally competent mental healthcare to people of all backgrounds. Opportunities I have had as a student to work with underserved, undocumented, and asylum-seeking patients convince me of the responsibility mental health care providers have to be actively involved in border health issues on a local and national level. Additionally, experiences I have had working in school-based healthcare settings have allowed me to recognize the importance in giving kids and adolescents the opportunity to participate in thorough, non-judgmental care in a space that is easily accessed. I have been inspired by the students' I've worked with ability to open up and share about often devastating life circumstances, while still expressing motivation towards coping, progressing, and achieving despite them. For this reason, I hope to increase the presence of UCSD Psychiatry at local schools as a way to learn from our community and gain understanding of the types of challenges our teens face prior to when we see them in acute crisis. Lastly, I look forward to continuing my research project with faculty at Rady Children's Hospital to understand how depression screening and integrated care can lower barriers to adolescents' ability to access mental healthcare. My goal is to practice within and expand upon innovative care-delivery models, including integrated care and school-based care, in order to reach our most vulnerable youth. I am grateful to have been considered alongside my incredible classmates for recognition in inclusive excellence and look forward to working together to further the field of child and adolescent psychiatry as it pertains to access, equity, cultural competency, and innovation."