Traditional Track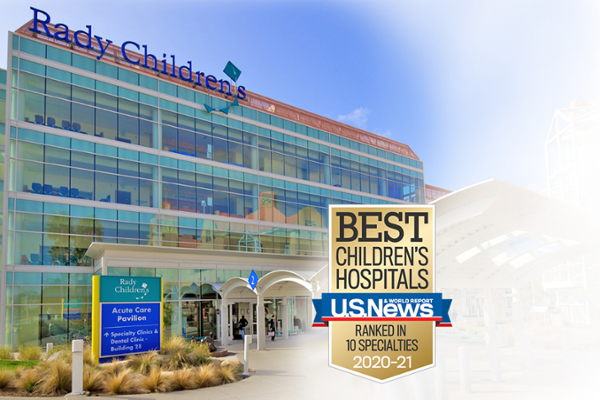 Background
The University of California San Diego Child and Adolescent Psychiatry Fellowship Program is thrilled to offer 4 Traditional Track positions per year! Our fellowship is primarily based at Rady Children's Hospital of San Diego, the largest designated children's hospital in the state of California. As the region's pediatric safety net hospital, Rady provides care to over 80% of children in San Diego County, with over 250,000 youth served per year. This clinical environment provides a myriad of treatment settings that ensure fellows are exposed to a broad range of psychopathology presenting in diverse populations. Our diverse faculty includes talented clinician educators with a passion for teaching and a commitment to caring for underserved populations, content experts providing focused care in specialty clinics, and grant-funded researchers furthering the scientific advancement of our entire division. Our aim is to train diverse graduates who possess knowledge of community-based systems of care, community outreach and engagement, prevention and early intervention strategies, and evidence-based treatments including both pharmacology and psychotherapy. Faculty members view teaching and mentorship as a privilege, and provide direct observation of clinical care, regular and consistent feedback, discussion of the current literature and evidence base for making rational clinical decisions, and opportunities for discussion and reflection on patient interactions, case conceptualization, and treatment planning. Our graduates are prepared to independently practice child and adolescent psychiatry in a variety of clinical settings, and are equipped to pursue careers as leaders in healthcare and organized medicine, academic psychiatry and research, public psychiatry, and private practice. 
Track Details
Both first and second year of fellowship in all tracks include a full, uninterrupted day of didactics that is pager-free.
The first year of the UCSD Child and Adolescent Psychiatry Fellowship Program Traditional Track includes core experiences in inpatient psychiatry, consultation-liaison psychiatry, inpatient eating disorders, pediatric emergency psychiatry, community-based outpatient care, and structured psychotherapy experiences. Our inpatient units are evenly divided between privately and publicly insured patients, and include a group psychotherapy experience. Our consultation-liaison services sees highly complex and rare manifestations of behavioral health conditions in medically-ill youth. Our inpatient eating disorders experience, coupled with the second year selective, offer the full continuum of care for patients and families in need. Our pediatric emergency psychiatry service provides specialized care to youth and families in an acute setting while offering an avenue for unique scholarly projects. All first year fellows rotate at Family Health Centers, a Federally-Qualified Health Center, for a 10-week full-time rotation in community-based outpatient psychiatry. Fellows on this rotation receive direct supervision for a half day psychotherapy clinic throughout the rotation.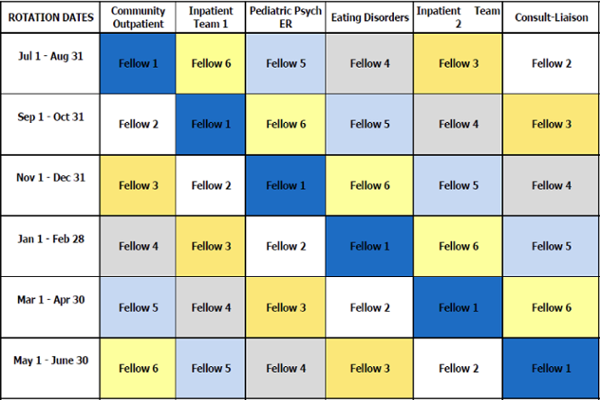 The second year of the fellowship Traditional Track offers exposure to three unique outpatient clinical settings. Traditional Track fellows rotate at Rady Children's Hospital outpatient clinics that are contracted through San Diego County Behavioral Health Services Division. This clinic is exclusively designated for underserved youth and families who are funded by Medicaid, and includes a very strong interdisciplinary collaboration with primary therapists, a dialectical behavior therapy (DBT) skills group, an addiction group for teens, and multi-system collaboration between foster care, juvenile justice, school districts, and county mental health. Fellows also rotate in our innovative Mental Health Integration clinics, which serve a dual mission of supporting and training pediatricians to provide behavioral healthcare while managing complex cases. Lastly, fellows rotate at an outpatient clinic for youth and families who are in need of urgent outpatient services given limited community resources. Second Year Traditional Track Fellows also carry psychotherapy cases with 1-2 supervisors per semester. 
Second Year Traditional Track Fellows also offers a multitude of selective experiences, including exposure to early childhood (0-6) intervention, autism spectrum disorders, juvenile justice, school-based psychiatry, substance use disorders, eating disorders (PHP/IOP), developmental behavioral pediatrics, and a pediatric consultation access program for San Diego County.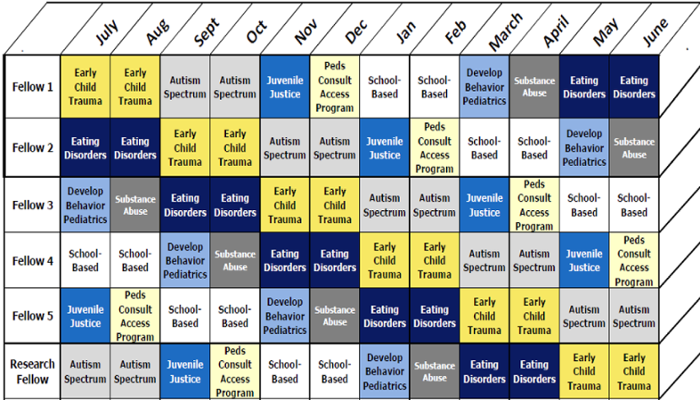 Applicants
We are dedicated to training the next generation of diverse, highly-skilled, empathic, ethical, knowledgeable, and diverse child and adolescent psychiatrists. Our review committee emphasizes humanitarian efforts, community service, maturity, leadership, interpersonal and interdisciplinary communication skills, an infectious spirit of inquiry which translates to a passion for learning and teaching, an insightful and growth-oriented mindset, experience working clinically with children and families in community-based systems of care, a strong belief in the proponents of trauma-informed and culturally-sensitive care, a clarity of heart and mind with noble motivations and intentions, and demonstrated capability in providing high-quality evidence-based care with an interest in quality improvement, patient safety, and ethical patient care. We are looking forward to reviewing your application!
For further information, please contact:
Sabina Perez
Program Administrator
sperez@rchsd.org 
(858) 966‒7759