Intern Class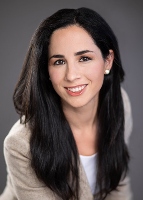 Rita Barandas is originally from Lisbon, Portugal. She received her medical degree from the University of Lisbon, Faculty of Medicine, and completed a Psychiatry residency program at Hospital de Santa Maria (CHULN) in Lisbon. She did research on circadian rhythms in mood disorders at the Welsh-McCarthy Lab, which motivated her to pursue her clinical and research interests at UCSD. Having previously worked with adolescents with problematic internet use, she is passionate about leveraging technology to improve mental health. She enjoys reading, traveling, dancing tango and spending time with family and friends. 
Sean Bentley was born and raised in San Diego and comes from our own UCSD School of Medicine. He completed his undergraduate degree at UCLA, where he majored in Psychobiology. While in medical school, he was an MSTAR scholar and volunteered in the student run free clinic. He has done research in cataract surgery with Dr. Natalie Afshari at the Shiley Eye Institute at UCSD, as well as in tobacco addiction and interventional psychiatry with Dr. Arthur Brody and Dr. Dhakshin Ramanathan from our own UCSD Psychiatry department. This work has resulted in multiple publications, including one as 1st author. His hobbies include tennis, surfing, snowboarding, collecting vinyl records, attending concerts, traveling, and being a dog dad.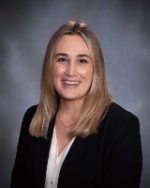 Lauren D'Andrea is delighted to join the UCSD Psychiatry Residency Program. An SF Bay Area native, she attended UCLA for her undergraduate studies, where she graduated with honors with a B.S. in Psychobiology. She worked at a healthcare finance consulting firm in San Francisco for two years before attending the Lewis Katz School of Medicine at Temple University in Philadelphia. During medical school, Lauren discovered an interest in psychiatry, particularly acute psychiatry and early psychosis, and was accepted into the Alpha Omega Alpha Honor Society. She is passionate about working with underserved populations and spent four years serving as a coordinator at a free clinic for Latinx immigrants in Philadelphia. In her free time, she enjoys hiking, cycling, tennis, travel, and spending time with her friends (and their dogs). She is excited to move back to the West (best!) coast and begin her psychiatry training at UCSD.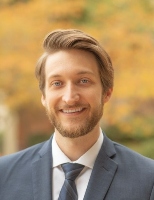 Devon Johnson grew up in the rural mountains of Mendocino County. He joins us from UC Davis School of Medicine after completing his undergraduate degree at UC Berkeley, where he double majored in Integrative Biology and Psychology and held a public health leadership position through the Berkeley Student housing cooperative. While at UCD SOM, he conducted research at the MIND Institute with a focus on pain, mood disorders, and fragile X syndrome. Devon is passionate about patient advocacy and ecstatic to learn from the best at UCSD. He spends his free time outdoors hiking and biking, inside with his mischievous cats, or enjoying competitive video games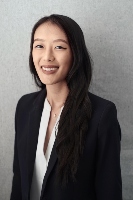 Stephanie Ma
joins us from the California University of Science and Medicine School of Medicine. A Southern California native, she attended UCLA as an undergraduate where she studied psychology and communication studies. At UCLA, she volunteered in an anxiety and depression research lab, as well as an autism research lab where she worked with children with autism spectrum disorder. During her gap years, she worked in social services at an inpatient psychiatric facility. In medical school, she helped start the student run health clinic and was president of the behavioral health interest group. She is thrilled to join the psychiatry residency program at UCSD where she will continue to explore her broad interests in psychiatry, including inpatient psychiatry, schizophrenia/early psychosis, transitional age youth, and psychotherapy.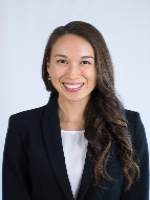 Mari Miyoshi is thrilled to join the Psychiatry program at UCSD. She graduated from Brown University with a degree in International Relations and then did a year-long fellowship in Morocco. She returned home to Honolulu, Hawaii'i to work for several years with houseless and at-risk youth as well as with people in substance use treatment. She attended medical school at the University of Hawaii'i, where she created manikin simulation teaching events and was a manager in the student-run free clinic. She is interested in adolescent addiction, neuromodulation, and medical education. She spends her free time surfing and is excited to explore the many breaks in San Diego.

Kevin Yang comes to us from our own UCSD School of Medicine and is incredibly excited to stay in San Diego. Born and raised in Huntsville, Alabama, he went to UCLA for undergrad studying Biology. He then worked for two gap years as a nursing assistant on an inpatient psychiatry unit where he fell in love with the field. At UCSD, he was involved with Free Clinic and published research on psychedelics, ketamine, and cannabis. He plans to continue conducting this research and hopes to get involved with residency wellness initiatives. His wide range of professional interests include inpatient adult, interventional (psychedelics/ketamine), integrative, geriatric, and consultation-liaison psychiatry. His hobbies include traveling, backpacking, camping, meditation, going to concerts, high-altitude trekking, marathon running, line dancing, and going to the farmers market

Nix Zelin is a proud New Zealand-American who grew up in the San Francisco Bay Area. She majored in Neurobiology, Physiology, and Behavior at UC Davis and earned a Studio Art minor while studying abroad at the University of Bordeaux. UC Davis awarded Nix the 2013 University Medal, given to the "top graduating senior." Nix discovered the true meaning of winter while attending the Yale School of Medicine, from which she graduated Cum Laude in 2018. At YSM, Nix continued her involvement in LGBTQIA+ research, medical education, and advocacy, including as Founding Chair of the Dean's Advisory Council for LGBQTI+ Affairs. Nix has spearheaded varied academic research (from evaluating interrelated physician biases to experimenting with fungi to make art) and supported private sector research as a consultant for a sexual wellness company, a research team member for a medical AI company, and a writer for a medical communications agency partnering with pharmaceutical companies. As a clinician, Nix is passionate about integrative psychiatry and particularly interested in neurodiversity, trauma-related conditions, sexual health, and gender, sexual orientation, and relationship style-diversity. Outside of work, Nix is a devoted cat mom and podcast aficionado.
Community Track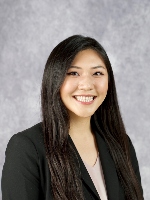 Justine Ku joins us from UC Riverside School of Medicine. She attended UCLA for her undergraduate education, graduating Summa Cum Laude in Biology with a minor in Global Health. While in medical school, she pursued a designated emphasis in Medical and Health Humanities and is a Gold Humanism recipient. She is passionate about voluntarism and teaching and has served on the National APAMSA Board, as a caseworker for the Mobile Clinic Project at UCLA, as Outreach Director at the San Bernardino Free Clinic, and in various teaching positions at UC Riverside School of Medicine. She is thrilled to be joining the Community Track at UCSD and living in beautiful San Diego! Justine enjoys cardio kickboxing, watching sunsets, eating, and going to Disneyland in her free time.

Jackie is a local native to Southern California and San Diego County. She attended UC San Diego for undergraduate education where she earned her degree in Psychology and discovered her passion for mental health. After completing her undergraduate education, she began work as an ABA therapist for children diagnosed with autism spectrum disorder and provided therapy for children, adolescents, and families in medically underserved regions of San Diego County. She then attended medical school as part of the inaugural class at California University of Science and Medicine in San Bernardino, California, where she received scholarship recognition for her commitment to community outreach and patient advocacy. Throughout medical school, she demonstrated this commitment to her community's health through volunteerism, providing career mentorship to local underserved youth, teaching medical Spanish to her peers, and serving as co-founder and vice president of the Latino Medical Student Association (LMSA) at her medical school. Her career interests include Child/Adolescent psychiatry, psychotherapy, teaching, community outreach, and addressing disparities in access to mental health care. Her hobbies include dance fitness classes (Zumba), spending time exploring outdoors, cat napping with her fluffy Persian cat, and drinking boba.
Research Track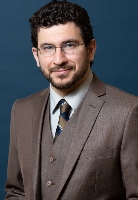 Johansen Amin will be joining our research track from Stony Brook University, where he received his MD, PhD. He did his graduate work in Molecular and Cellular Pharmacology. His thesis research focused on how disease associated variants in neurodevelopmental and neuropsychiatric disease altered the function of ionotropic glutamate receptors. He has multiple peer reviewed papers including a four first authored publications on from his PhD work.  After a sabbatical studying ion channels in stem cell derived mid Brain dopaminergic neurons, his interests have shifted to studying the membrane properties of human induced pluripotent stem cell derived neurons in Schizophrenia, Bipolar Disorder, Autism Spectrum Disorders, and Major Depressive Disorders. He is a strong believer in intermingling science and psychiatry, striving to both treat and learn from his patients. He went to the University of Chicago as an undergraduate. He enjoys chess, bonsai, making bbq kabobs in his back yard, and has been known to frequent a variety of shows and concerts to relax
Jared Kopelman is originally from Santa Fe, NM.  He attended Pomona College where he majored in neuroscience, and he is excited to be returning to Southern California for residency. He completed his MD and PhD at the University of Pittsburgh School of Medicine. For his PhD, he studied molecular and circuit models of compulsive behavior with Dr. Susanne Ahmari. Going forward, he hopes to research the mechanisms underlying novel therapies for psychiatric disorders, including neurostimulation, ketamine, and psychedelics. Clinically, he is interested in working with patients with treatment-resistant psychiatric disorders. In his free time, he enjoys playing and watching soccer, and cooking elaborate meals