Leadership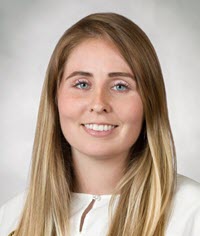 Alexandra Sietsma, PMHNP-BC, APRN
Director of Nurse Practitioner Training Program
Alexandra Sietsma is the Director of the Nurse Practitioner Clinical Training Program at the University of California, San Diego (UCSD). She is an advanced practice registered nurse and board-certified psychiatric-mental health nurse practitioner, who specializes in assessing and treating adults with varied psychiatric disorders. Currently she is on the Advanced Practice council at UCSD as well as clinical faculty at the University of San Diego. After receiving her Bachelor of Science in Nursing from Duquesne University in Pittsburgh, her places of employment included behavioral care at Scripps Mercy Hospital in San Diego and UPMC Western Psychiatric Institute and Clinic in Pittsburgh. While achieving her Master of Science as a Nurse Practitioner, in Psychiatric Mental Health from the University of San Diego and prior to joining UC San Diego Health as staff, Ms. Sietsma was a member of the first graduating class of the Clinical Training Program at UCSD.
As a member of the Advisory Panel of the Education Council in the American Psychiatric Nurses Association, where she recently presented at its annual conference, Ms. Sietsma highlights the need for interprofessional collaboration between psychiatric mental health disciplines. Additionally, she has presented and will present at this years' annual meeting of the American Psychiatric Association with the aim of improving communication in the clinical setting as well as educating future and present nurse practitioners in mental health care. Other professional organizations in which she is a member, include; the American Association of Nurse Practitioners and the National Organization of Nurse Practitioner Faculties.
---
Dr. Emily Troyer, M.D.
Child Adolescent Psychiatrist
Emily A. Troyer MD is an Assistant Clinical Professor in the Department of Psychiatry, where she serves as the Child and Adolescent Psychiatry Track Director for the Community Psychiatry Program (CPP). After completing medical school at the University of Toledo, residency at the University of Illinois at Chicago, and child and adolescent psychiatry fellowship at UCSD, she completed a T32 post-doctoral research fellowship in biological psychiatry and neuroscience at UCSD. In her role in CPP, she teaches and supervises physician residents and fellows, and PMHNP fellows, in general and child and adolescent psychiatry. Clinically, she is passionate about working in underserved settings, and she gets excited about opportunities to integrate research and clinical care for vulnerable populations. In her free time, she enjoys spending time with her family, hiking and being outdoors, crocheting, gardening, and DIY projects.