People
Program Director

Betty Shih, M.P.M., Ph.D. is the Director of the Fellowship and Director of Didactic Training. Dr. Shih received her Ph.D. in genetic epidemiology from the University of Pittsburgh, and completed postdoctoral training at the UC San Diego Department of Medicine and Department of Psychiatry.
Dr. Shih's research encompasses a synthesis of epidemiology and molecular genetic studies in both clinical and population-based samples. Her expertise is in the genetics and translational science of complex disorders and phenotype such as eating disorders, metabolic syndrome, aging, and psychiatric comorbidities. Dr. Shih has served the Fellowship as a training faculty since 2012.
Meet the Fellows

Dr. Breanna Holloway received her Ph.D. in Clinical/Behavioral Medicine Psychology from the University of Maryland, Baltimore County. She completed the APA-accredited clinical internship training at the VASDHS/UCSD Psychology Internship Program. She is currently a first-year fellow in the T32 Fellowship in Biopsychiatry and Neuroscience. Breanna's current research project focuses on the relationships between the endocannabinoid system, sleep, and cannabis use among people with Bipolar Disorder. In her free time, she enjoys reading, being outdoors with her dog, and spending time with family and friends.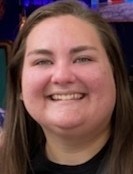 Dr. Kayla Rohr received her Ph.D. from Marquette University where she studied neuropeptide regulation of the master circadian clock. She is currently a postdoctoral fellow in the T32 Fellowship in Biological Psychiatry program at UC San Diego. Kayla works with Dr. Michael McCarthy studying the underlying circadian mechanisms involved in psychiatric disorders using induced pluripotent stem cell models.



Dr. Kelly Correa received her Ph.D. from the University of Illinois at Chicago in 2022. During graduate school, her program of research utilized multi-method assessments (i.e., self-report, electromyography, electroencephalography) to investigate how transdiagnostic constructs, including sensitivity to uncertain threat, contribute to the vulnerability for, and maintenance of, anxiety and depression. She is currently a first-year fellow in the T32 Fellowship in Biopsychiatry and Neuroscience. Kelly's current research project, under the supervision of Dr. Joanna Jacobus, will utilize data collected through The Adolescent Brain Cognitive Development (ABCD) study to examine (1) whether neural responses to reward longitudinally predict symptoms of depression and (2) whether ethnicity moderates such longitudinal relationships.
Advisory Committee
Pei-an (Betty) Shih, M.P.M., Ph.D., Program Director, Assistant Professor of Psychiatry, UC San Diego Dept of Psychiatry
Mark A. Schuckit, M.D., Professor of Psychiatry, UC San Diego Department of Psychiatry
Walter Kaye, M.D., Professor of Psychiatry, UC San Diego Department of Psychiatry
Susan Tapert, Ph.D., Professor of Psychiatry, UC San Diego Department of Psychiatry
Neal Swerdlow, M.D., Ph.D., Professor of Psychiatry, UC San Diego, Department of Psychiatry
Jonathon Sebat, Ph.D., Associate Professor of Psychiatry, UC San Diego, Department of Psychiatry
Murray Stein, M.D., M.P.H., Professor of Psychiatry, UC San Diego, Department of Psychiatry
Jay Giedd, M.D., Professor of Psychiatry, UC San Diego, Department of Psychiatry