About CASRC
Investigators collaborate to conduct services and dissemination and implementation research across publicly-funded sectors of community care. Target populations include individuals' substance use disorders, mental health disorders, HIV, trauma and child maltreatment histories, early developmental problems, and co-occurring disorders. CASRC is also renowned as a rich training environment for early career researchers from diverse disciplines, with 19 mentored Career Development Awards funded by NIH in the past ten years.
Our Four Primary Goals
Extend an existing interdisciplinary, public agency and academic liaison research program that emphasizes research interests in mental health services for youth at high-risk for mental disorders. Research will focus on examining and improving care for diverse populations and fostering the growth of methods and statistics support capability for mental health services research.
Provide advanced mentoring to doctoral and post-doctoral researchers, which will enable them to conceptualize, design and conduct research on child and adolescent mental health services. Support from existing large-scale CASRC studies, CASRC-linked institutions, and other services research centers provides opportunities to learn about research in the field from multi-disciplinary teams of experienced investigators.
Collaborate and provide technical assistance for state and county policy makers, mental health providers and managers in youth service agencies, consumers and their families, and to improve the delivery of child and adolescent mental health services among agencies working in child welfare, health services, mental health, education, probation, and substance abuse services.
Disseminate research findings and methods/statistics developments to the academic community, public and private providers, systems managers, public and private policy makers, and mental health care consumer groups. In addition, efforts will be made to disseminate information to the families of children with mental health problems. This process includes publications in peer-reviewed journals, presentations at academic, professional, and policy forums, and a series of Center research reports, in addition to the CASRC website and newsletter.
Two Core Research Areas
Studies and personnel within CASRC are structured into two core research areas.
Examining care for diverse populations.
Improving care for diverse populations.
Strategic Focus
CASRC has a strategic focus on improvement of public pediatric mental health care through a program of mental health services research that spans clinical epidemiology studies linked to evidence-based practice, effectiveness and quality of care studies, and implementation studies that include organizational, financing, and policy issues.
An overarching center perspective of cultural exchange guides an active partnership with major stakeholders in youth mental health care across the public sectors of mental health, child welfare, juvenile justice, substance abuse services, and education.
How Are We Funded
Funding for CASRC has come from a broad base of government agencies and philanthropic foundations, including: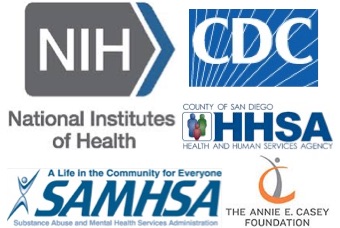 National Institute of Mental Health (NIMH)
National Institute on Drug Abuse (NIDA)
National Institute of Child Health and Human Development (NICHD)
Substance Abuse and Mental Health Services Administration (SAMHSA)
Administration for Children, Youth, and Families (ACYF)
Agency for Healthcare Research and Quality (AHRQ)
State of California
County of San Diego
Branches of the United States military
Our Focus & Where We Specialize
CASRC focuses on mental health care issues for vulnerable children, including children in public service sectors. In addition, CASRC specializes in longitudinal studies of children at risk for development of mental disorders and other problems in psychosocial functioning, and the effectiveness of interventions.