Vision, Mission, & Core Values
Vision, Mission, & Core Values
​Vision
To become the premier academic and community collaborative leader in mental health.
Mission
Academic servant leaders in the community with active engagement
Highest academic quality in clinical care delivery serving all members of the community
The highest standard in a collaborative clinical training program in the community
Innovative projects and scholarly activities to help evolve community standards of care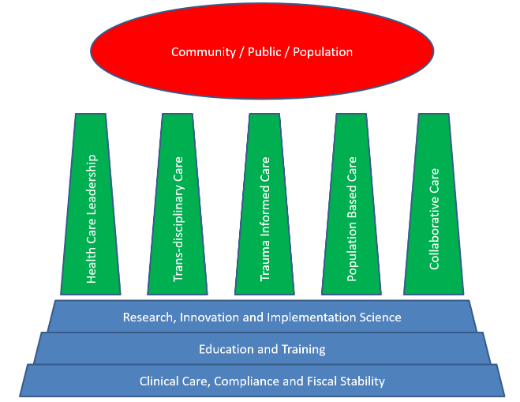 Core Values
The University of California, San Diego Community Psychiatry Program embraces the California Mental Health Services Act's (MHSA) guiding principles, San Diego County's Behavioral Health Services' (SDCBHS) principles, and UCSD Department of Psychiatry's core principals.
Mental Health Services Act (MHSA)
Cultural Competence
Community Collaboration
Client, Consumer, and Family Involvement
Integrated Services Delivery
Wellness and Recovery
San Diego California Behavioral Health Services
Live Well San Diego Vision
Building Better Health
Living Safely
T

hriving

BHS promotes recovery and well-being through prevention, treatment, and intervention, as well as integrated services for clients experiencing both mental illness and alcohol or other drug issues
The University of California, San Diego Department of Psychiatry
To enhance mental wellness and better the lives of people with mental illness across the lifespan through basic, clinical, and translational research; by educating the next generation of scientists and clinicians; and by providing state of the art, evidence-based personalized and compassionate care, in partnership with our community.