Resident Spotlight
Get To Know Our Residents

Get to know our residents and what a typical week might look like for you as part of our residency family! Learn about our rotations, work hours, and also how we spend our time outside of work.
Get to Know Nix
Background & Education
A California native with a Kiwi twist, I grew up in the San Francisco Bay Area and spent many summers visiting family in New Zealand's North Island. As a child, I was a proud bookworm who loved to play pretend, do art projects, and anything involving animals. I majored in Neurobiology, Physiology, and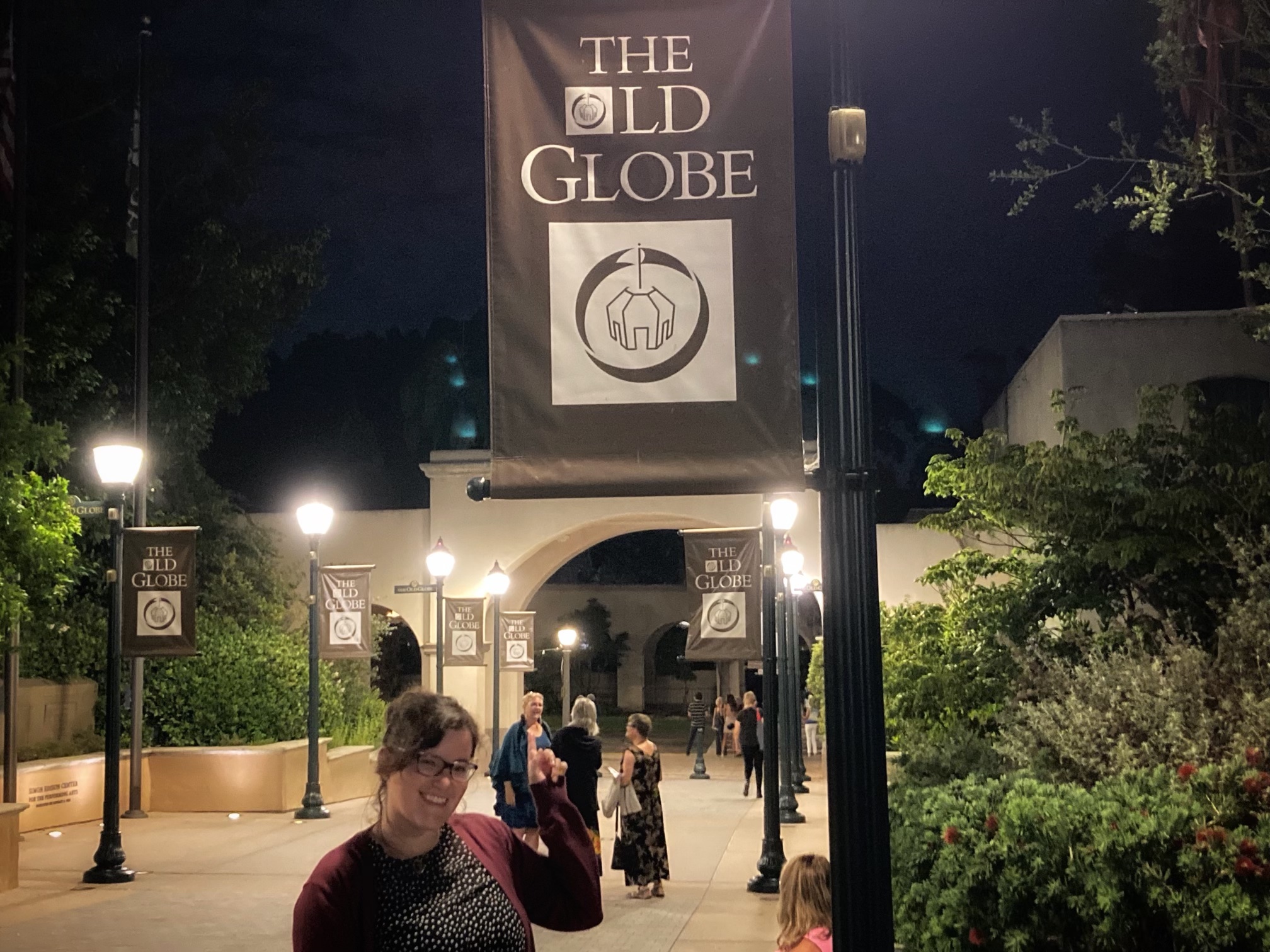 Behavior at UC Davis, and minored in Studio Art while studying abroad in Bordeaux, France. Creating connections between the humanities, social sciences and biological sciences has added incredible richness to my professional path, from ongoing involvement with LGBTQQIA+ healthcare advocacy to adventures in research consulting and medical writing.
Career goals/interests within psychiatry
My dream is to open an integrative psychiatry center where clients will be able to receive care from diverse types of healing practitioners in the modalities that resonate for them. I look forward to integrating my passion for working with individuals around neurodiversity, trauma, sexual health, and gender, sexual orientation and relationship style-diversity, into my clinical practice.
PGY1 Clinical Rotations
UCSD Hillcrest Inpatient Psychiatry (3 months)
VA Inpatient Psychiatry (3 months)
Neurology/Child Neurology (2 months)
Emergency Medicine (1 month)
Inpatient Medicine/Pediatrics (2 months)
Outpatient IM/FM clinic with continuity patient panel (half day/wk)
Nightfloat/buddy call at UCSD Hillcrest (4 separate weeks)
Vacation (4 weeks, 2 or 1 week blocks)
Average Weekly Hours
On service: ~45-55 hrs/wk
Off service: ~65-75 hs/wk
Night and Weekend Call Duty
4 separate weeks of night float/buddy call with a PGY3 at UCSD Hillcrest (6 nights/wk)
1-2 weekend psychiatry call shifts (12 hr) per month, except no psychiatry call while on medicine or ED rotations (~14 psychiatry weekend shifts total in a year)
Typical Week
 SUNDAY
Sundays are my standing "catch up with family day" – including family on the other side of the world! I am a big believer in the "your home is your castle" philosophy, and enjoy nesting on the weekends – so you can often find me making sure my house is clean and ready for the week to come, and planning my next DIY home project. Some weekends I will head to one of San Diego's museums (the photography museum is donation-based – score!), hit up a crafting Meetup group, or attend a yoga class.
MONDAY
Morning and Afternoon: Wake up between 6:00-6:30 am. Shower and listen to a podcast or the news, and enjoy a cup of tea and waffle while feeding the cats. I usually try to start my morning commute by 7:20, since it takes me about 25 minutes to get to the La Jolla VA – and this way, I have time to park, and walk in to work by 8:00 without rushing. Even when rounds start at 9:00, I have time to review charts, call the nursing staff as needed, and check in with patients with urgent issues prior to Team Rounds.
Team Rounds are held by Zoom on Mondays, Wednesdays and Fridays and include the Attending, senior residents, interns, sub-interns, medical students, nursing staff, pharmacists, social workers, and discharge coordinators. These meetings are an excellent venue for coordinating care and building interdisciplinary consensus, especially for complex cases.
After Team Rounds, the physician team will often see one or several patients together, discuss treatment planning, and engage in informal teaching. Depending on the Attending, I may go directly to seeing patients on my own.
I check in with each of my patients every day, and may go back several times to check in with them as the treatment plan or discharge planning evolve. I make sure to keep in close contact with my nursing, pharmacy, and social work colleagues, so they are aware of next steps and can help provide patients with consistent information. Before the end of the day, I make sure to update the shift handoff tool, so that the PGY-2 residents on night shift are appropriately prepared for any issues that may come up with my patients.
Evening: Depending on the day, I leave the hospital between 4:30-7:00 pm. I often listen to music or call a loved one on the drive back home. I always enjoy the beautiful San Diego nature – even during my commute – and end up appreciating how restorative it is, after a full day.
TUESDAY
Morning and Afternoon: I arrive at work by 8:00 am to start my pre-rounding. There are no formal Team Rounds on Tuesdays, so I do my pre-rounding and start to see patients on my own time. The Attending will reach out to coordinate "card flip" rounds for the physician team by late morning, during which we will discuss the key and pressing issues for each patient.
I try to build in teaching time as much as possible with the medical student(s) working on our service. Often, we will go see patients together so that the medical student(s) can practice interviewing, presenting an MSE and/or drafting a note, for which I try to provide same-day feedback, time permitting.
Evening: After catching up on e-mails and some "life logistics" (like paying bills or scheduling telehealth appointments), I choose to relax with a show on my streaming service of choice.
WEDNESDAY
Morning and Afternoon: Same as Monday. At the VA, some Wednesday afternoons feature sub-intern presentations on a topic of their choice or teaching by senior residents. Lunch is always ordered and dropped off in the resident room, regardless of whether there is a presentation that week.
Evening: By midweek, I may be in the mood to splurge, and decider to order delivery for dinner – timed to arrive at my apartment around the same time I do! San Diego has an amazing variety of restaurants, including for folks who have dietary preferences or restrictions (e.g., vegan, gluten-free).
THURSDAY
Morning and Afternoon: The cats are delighted that I stay home all morning for didactics, which are held via Zoom. I enjoy breakfast while watching the first presentation of the morning, which depending on the week, may be a wellness or health equity lecture attended by residents from all four years. When it comes to the intern-specific lecture, I take notes on the outlines sent out prior to the interactive, flipped-classroom lectures. I am continually impressed by the varied knowledge of my co-interns– and learn so much from the questions they ask, the rationale provided for their questions, and the answers to those questions. Once didactics end, I eat lunch and drive to the hospital, so that I can take over patient care responsibilities by 1:00 pm.
Evening: I may attend a meditation class online or have a Zoom dinner date with friends or family.
FRIDAY
Morning and Afternoon: Same as Monday. Most Friday afternoons, there is an advanced psychopharmacology lecture hosted on Zoom. Lunch is provided and brought to the resident workroom.
Evening: The intern class is very social and has organized a number of restaurant and brewery outings to celebrate the end of a rotation block – or just the advent of the weekend! On an adventurous Friday, I may attend a play at the Old Globe Theater or a movie at one of the local cinemas.
SATURDAY
On average, I have 1-2 weekend call shifts per month.
On a weekend day call shift, I arrive by 8 AM at the UCSD Hillcrest hospital to receive sign-out from the PGY-1 and PGY-3 residents on night float. Day call shifts tend to be fairly busy: there are generally 2 residents (1 PGY-1 and 1 PGY-3) and 1 attending covering all psychiatric care for the Hillcrest hospital. As interns, we help see every patient admitted to the inpatient unit (including writing a note), as well as evaluating any consults from the Emergency Department. Using the funds loaded onto out UCSD ID badges, we will often buy lunch and snacks through the day. The residents on night shift arrive at 8 pm to receive sign out, and then we go home. When I arrive home, I relax with a nice, easy to cook meal and a podcast.
Get to know Jack
Background & Education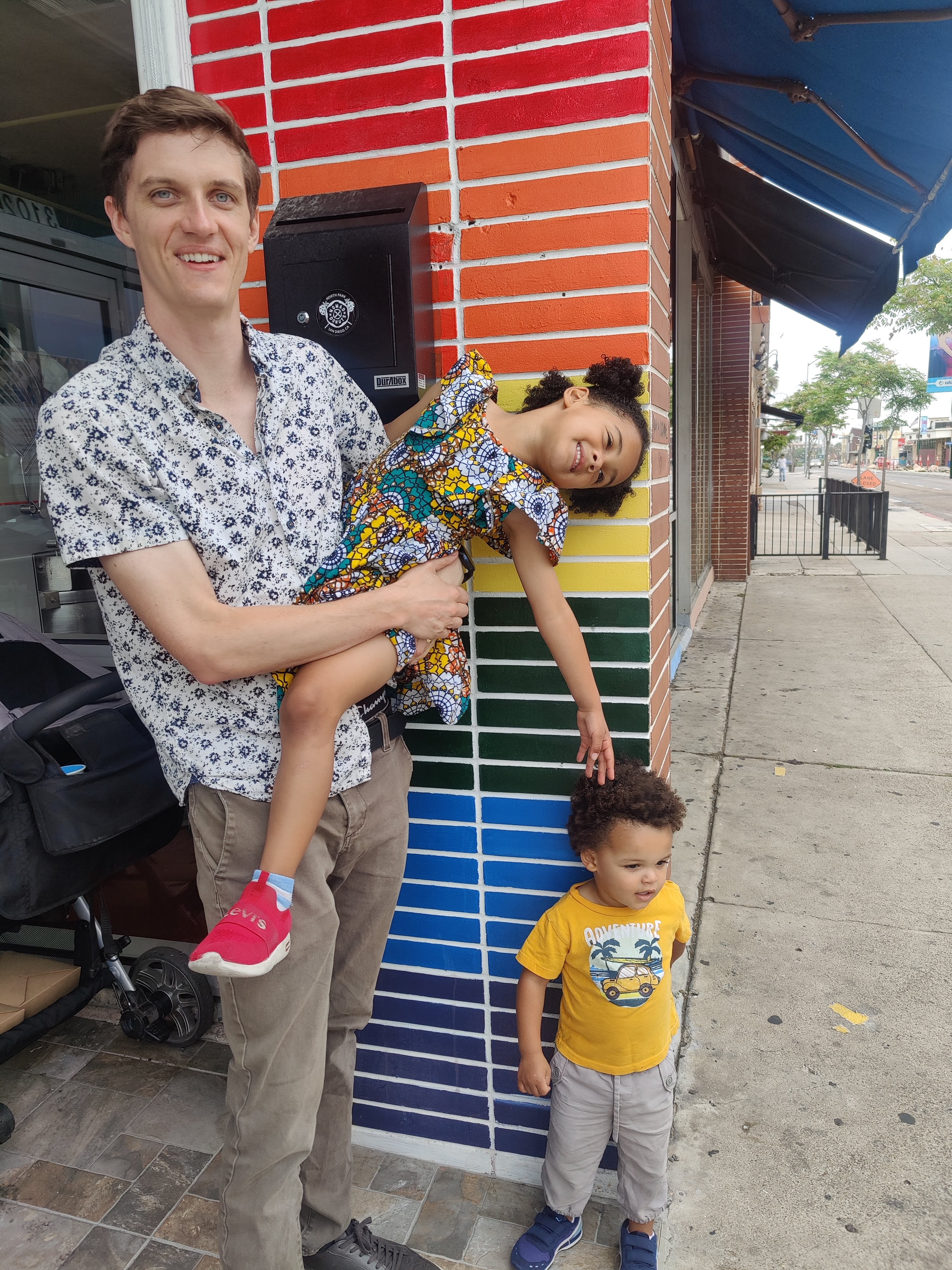 I am proud to originally hail from Seattle. Growing up in the misty, drizzly Pacific Northwest inoculated me against bad weather and also provided good fodder for my current love of coffee and seafood. After high school, I headed out into the wider world, heading down to Stanford where I studied human biology, psychology and pursued my passion for classical music by playing the French horn in a number of campus ensembles. After graduation and two years of struggling to figure out the rest of my life,  circumstances (ie the love of my life) took me to the Midwest for the next decade. Our first stop was Ann Arbor, Michigan where I worked for a research lab studying neurodegenerative diseases in mouse models and volunteered for a youth crisis hotline and the American Red Cross while my partner completed an MPH. Next stop was Madison, WI, where I joined the MSTP at the University of Wisconsin, completing an MD and a PhD in Cellular and Molecular Biology over the next 8 years. In the meantime, my wife completed a PhD in Social Welfare, we became homeowners, we had a couple kids and survived a pandemic along the way :).  I was thrilled to return to California as a member of the UCSD Psychiatry Research Track Residency program.
Career Goals
I am very interested in studying the intersections between social determinants of health, neurobiology, cognition and psychiatric illnesses during the aging process. Clinically, I am particularly passionate about working with older patients and am considering specializing in geropsychiatry.
PGY2 Clinical Rotations
Inpatient Psychiatry VA (4 months)
Inpatient Geropsychiatry (1 month)
Alcohol and Drug Treatment (1 month)
Child and Adolescent Psychiatry (1 month)
Eating disorders (1 month)
Psychiatry Emergency Clinic (2 weeks + 2 weeks) Night float (2 weeks + 2 weeks)
Consult/Liaison psychiatry (2 months)
Average weekly hours
PGY2 on-service: 45-55 hrs/week
Night and weekend call duty
4 total weeks of night float at the VA (82 hr/wk)"
~14 weekend shifts total in a year, 2-3 holidays worked
SUNDAY
AM: I usually wake up early with my two kids, ages 2 and 5, make some breakfast and plan an outing for the day while my wife catches up on sleep.  Favorite destinations include the San Diego Zoo, San Diego Safari Park (yes, there are two incredible zoos in San Diego!), or one of the many amazing San Diego area beaches (we love Ocean Beach, Powerhouse Beach and Fanuel Park).
PM: Family nap hour is usually a crucial part of the afternoon followed by preparing for the week ahead – prepping/cooking meals, cleaning the house, getting the kids ready for the coming school week. After putting the kids to sleep, my wife and I will usually curl up with a good (or trashy) show on Netflix or HBO to chill out in anticipation of the week ahead.
MONDAY
 Morning: PGY2 year is a bit of a clinical grab bag and varies quite a bit depending on which rotation I am currently on. On a "typical" VA inpatient psychiatry rotation I'll get up around 6:15, help get the kids ready for school and out the door, grab a coffee and some breakfast and get to the VA around 8 to start pre-rounding on patients and preparing notes.  Interdisciplinary rounds provide a great platform to put together a more comprehensive inpatient treatment plan and discharge plan in coordination with our excellent colleagues from social work, nursing and pharmacy. 
Afternoon: I will often take a walk over to the UCSD Jacobs Medical Center, where we can spend our hard earned meal allowance on pretty decent lunch at the hospital cafeteria or Farmasea, the secret café in the Alzheimer's Disease Research Center building with AMAZING fresh juices, smoothies, espresso drinks and acai bowls. The rest of the afternoon is spent finishing documentation, completing discharges and admissions and doing some teaching with the stellar UCSD medical students.
Evening: About one day a week, I can expect to stay late to take care of unit issues and admissions until 6pm while my co-residents enjoy a well-deserved end to their day around 4:30. My wife will have picked up the kids and made dinner, so is in dire need of relief.  After dinner, it is time to get the kids ready for bed, clean up the kitchen and prepare for the next day.
TUESDAY
Morning: Tuesday mornings are usually more laid back since rounds are more informal "card-flip" style with one of the three fantastic VA attendings followed by the typical discharges, admissions or testifying at the occasional legal hearing (definitely one of my least favorite parts of inpatient psychiatry but a necessity for the safety of our sickest patients).
Afternoon: Because the mornings tend to be less full, Tuesday afternoons are often great for circling back and spending more time with patients. We don't get a ton of formal therapy training during our first year, but what skills we e do learn improve through practice with our veteran patient population.
Evening: Tuesday evenings, we try to meet up with friends at Civita Park for dinner from one of the many delicious food trucks that rotates through each week and have an evening stroll while the kids play.
WEDNESDAY
Morning: Same as Monday mornings!
Afternoon: Wednesday we have lunch provided from a delicious nearby spot along with a learning session on some clinical topic, often a medical student presentation. After lunch it is time for outpatient clinic. PGY2 year we have a couple different options for clinic and I opted for the geropsychiatry clinic at the VA.  This year, we get our first taste of supervised therapy visits as well as conducting medication management visits.
Evening: I try to get home earlier to help cook dinner and play with the kids. We might go for a walk after dinner and watch one of the beautiful San Diego sunsets from nearby Murray Ridge park before heading to bed.
THURSDAY
Morning: Ahhhh, the sweet bliss of didactic mornings! After getting the kids ready for school/daycare there is usually room for a leisurely morning of an extra 30 min of sleep or some much needed jogging/yoga before Zoom didactics start at 8AM. Didactics vary from resident-led "professor rounds" to sessions with various UCSD experts in all sorts of psychiatry-related topics.
Afternoon: After lunch at home, I drive over to the VA to finish out the afternoon on the inpatient unit.  Rounds are again informal and attendings will sometimes help share some of the documentation burden, leaving a bit more time for patient care, teaching and learning.
Evening: After work, I'll help prepare dinner and hang out with the kids.  After putting them down for sleep, I try to slip into some right-brain mode for a while on my electric keyboard before enjoying some dessert and a streaming show with my wife.
 FRIDAY
Morning: Same as Mondays!
Afternoon: Friday afternoons are generally spent wrapping up any loose ends from the week and preparing for the weekend ahead (any anticipated discharges, changes to treatment plans, touching base with patient family members, etc.).
Evening: Fatherhood is amazing and awesome, but also challenging and time-consuming, so most Friday evenings are spent similarly to other evenings… playing with the kids, getting them fed and ready for bed before collapsing on the couch/bed. However, on the off-chance that we have a grandparent in town or a baby-sitter on hand, my wife and I will head out to one of the many amazing restaurants that grace the San Diego landscape. You can find just about any type of cuisine (along with great beer and cocktails) you could possibly want at reasonable prices, and nothing beats an after dinner walk by the ocean.
SATURDAY
AM: Finally a day of rest!  Assuming I don't have a call shift, my wife will wake up with the kids while I catch up on sleep.  We might head to a county park or the San Diego Botanical Gardens for a hike before coming home to play some Switch with the kids. Once again, family nap time is critical to everyone's sanity!
PM: Weekends are great times to get a jump start on food-prep, so my wife and I usually make a big meal or two to eat throughout the week.  Afterwards, we might plop the kids down in front of the TV for some episodes of Bluey (the best kids show around, believe me!) while we enjoy a cocktail or glass of wine.
Get to know Ben
Background and Education
I grew up in the idyllic, distant land of New Jersey. I majored in English and chemistry at Haverford College, where I coupled my love of the mind and literature with a drive to pursue medicine. Believing that I wanted to become a neurosurgeon, I performed basic science research at a brain 
tumor lab in Columbia University before entering into the MSTP at UCLA. However, two years into my PhD studying the brainwaves of mice with temporal lobe epilepsy and a rare form of autism, I thought, What am I doing with these mice when all I want to do is work with patients?, and left the PhD to pursue
 psychiatry. Still, I've never strayed far from the lab, as I am now doing seasonal affective disorder research with Dr. Michael McCarthy and ketamine research with Dr. Dhakshun Ramanathan. For much of my time in New York and Los Angeles, I volunteered as a rape and domestic violence crisis counselor and at a shelter for women and children.
Career Goals
I have always had a strong interest in severe mental illness, particularly bipolar disorder and primary psychotic disorders, and working in the mood clinic during my second year at UCSD solidified my intent to continue to do so after residency. During residency I also wrote and co-wrote a few articles on the mental health consequences of incarceration and forensics-related topics, which I hope to continue engaging with from an advocacy position. I am currently in the psychoanalytic fellowship at t
he San Diego Psychoanalytic Center, which has convinced me that, whatever type of practice I pursue, I will incorporate therapy into my work.
PGY3 Clinical Rotations
Outpatient psychiatry at OPS (12 months)

Interpersonal therapy elective (12 months)

Interventional psychiatry elective (12 months)

CORE psychosis clinic (12 months)
Average weekly hours
Night and weekend call duty
4 total weeks of night float at UCSD Hillcrest Hospital (84 hrs/week)

~ 14 weekend shifts total in a year, 1-2 holidays worked
Typical Week
Sunday
Morning: I reluctantly wake to soft nibbles from my two hungry kitties, whom I then feed while making myself a cup of coffee in preparation for beach volleyball at Mission Beach. After a few hours of play under the generous San Diego sun, I head to brunch in North Park with one of my co-residents and stroll over to the bustling Hillcrest Farmers Market.
Evening: Sunday evenings are for unwinding, which means vegging on the couch with my 
kitties and watching a movie, reading a book, or listening to the sounds of nature in my garden.
Monday
Morning: I love my luxurious mornings, so I wake around 6, heat up water for some pour-over coffee, feed my cats, and journal and meditate. I then go to my UCSD-funded psychodynamic therapy and, from there, the UCSD hospital in Hillcrest, which is about five minutes from my apartment. My first patient is usually at 10 am, so I spend a few minutes prepping and then see three or four patients for med management before eating lunch outdoors with my classmates.
Afternoon: I have interpersonal therapy elective, which is one of my favorite parts of the 
week. Interpersonal therapy is a structured therapy that lasts about 16 sessions and is designed to cultivate strong and secure relationships for the treatment of major depressive disorder. I have two one-hour long appointments and an hour with my supervisor, Dr. Pollyanna Casmar, who has had some of the greatest impact on my growth as a psychiatrist.
Evening: I finish the day around 4 pm, so that leaves me a lot of time to go to the gym, play some tennis with my very good friend Micah Fry (also a PGY-3), and hang out with him, his partner, and his daughter before topping the night off with some video games (currently The Last of Us remake).
Tuesday
Morning: I still love my luxurious mornings, so I do everything that I did on Monday morning. But Tuesday mornings are a little more relaxed because we have online didactics from 8 to 9 am. These are usually given by an attending in the outpatient clinic are always thought-provoking and practical. My first patient is at 9:30 so I get in at around 9:15, see three patients for med management, and then have clinic supervision with Dr. Thackaberry when we discuss any issues either of us has or teaching points.Then it's time for lunch, which is provided by the department and very yummy.
Afternoon: I see patients from 1:30 to 4:30, often four for med management and one fo
r an hour-long session of psychodynamic therapy, which I perform weekly with up to three patients and which is also one of the highlights of my week.
Evening: Because I am a creature of habit, I go to the gym after work. If I'm not hanging out with Micah, I'll head to either a coffee shop or my favorite kava spot, Kava Collective, which is a few blo
cks from where I live in Hillcrest. It's a funky place with an indoor tree, kombucha on tap, kava, and a host of other non-alcoholic drinks with outdoor seating and fire pits. I often go there to read, write, or do yoga.
Wednesday:
Morning: After my luxurious morning (see above), I go to my interventional psychiatry elective. This elective is broken up into thirds of the year, the first being TMS, the second being ECT, and the third being ketamine. I learn how to evaluate patients for each of these interventions and perform them. I was very excited to get into this elective because interventional psychiatry is one of UCSD's strongest areas of practice and research.
Afternoon: After grabbing some department-funded lunch at the VA while attending a talk about a variety of interesting topics, I have my elective at the CORE psychosis clinic at the VA from 1 to 4 pm. I provide med management and therapy for two to three patients with primary psychotic disorders. This includes one hour supervision with Dr. Fiza Singh, who is an extraordinary educator and empathic psychiatrist who teaches holistic approaches to treating patients with primary psychotic disorders, far beyond medication management.
Evening: After clinic I head to beach volleyball for open play at Mission Beach. I started play
ing when I moved to San Diego and am convinced beach volleyballers are some of the coolest, most inviting people I've met, which is great when you have no idea what you're doing on the court. Afterwards I usually head to Micah's, with whom you might suspect I have a co-dependent relationship, and there would certainly be some merit to that position. Wednesdays are usually later nights because it's didactics-eve.
Thursday:
Morning: This is probably the most luxurious morning because we have zoom didactics from 8 am to noon. Depending on how late I sleep in I'll either make coffee and lie on my couch while tuning in or I'll go to a cafe (my local fav being Communal) for a late and chocolate chia pudding.
Afternoon: I have two intakes every Thursday afternoon with an hour for each one and thirty minutes to write notes and put in orders. This is where I feel like a lot of real outpatient psychiatry happens, at least from a med management perspective. Again, my day ends at 4 pm.
Evening: Micah and I go to tennis class at the Balboa Tennis Club in North Park before head
ing back to his place for another night of hanging out.
Friday:
Morning: I see four patients for 30-minutes med management visit starting at 9:30 and ending at 11:30. Then it's lunch with my psychodynamic therapy supervisor Dr. Bryan Burns, a remarkably skilled therapist and mentor who has been practicing psychoanalysis for decades and always provides keen insights that I inevitably incorporate into my own practice.
Afternoon: I see several patients for a mixture of med management and therapy visits, finishi
ng up the week at around 4:30.
Evening: These are a total gamble. I usually keep things low key by reading/writing at a cafe, heading over to Kava Collective with some friends for some late night kava around a fire pit, or staying in to watch a movie (art-house horror is my preferred genre). Sometimes I surprise myself by heading out for a night of dancing in Pacific Beach or seeing a show at The Observatory, an intimate venue for all sorts of musicians.
Saturday:
Morning: I usually sleep in and have a slow mug of coffee while journaling in my garden. I then play beach volleyball at Mission Beach or surf with some of my co-residents (and good friends) before heading to brunch at Cafe Madeleine or Parkhouse Eatery (I gravitate towards sweeter brunch fare).
Evening: Also a total gamble and depends on how wild I got the night before. I often go to Coin-Op, an excellent barcade in North Park, improv comedy in Hillcrest (San Diego has an impressive comedy scene), or to the beach for a cozy evening around a bonfire.
Get to know Anaheed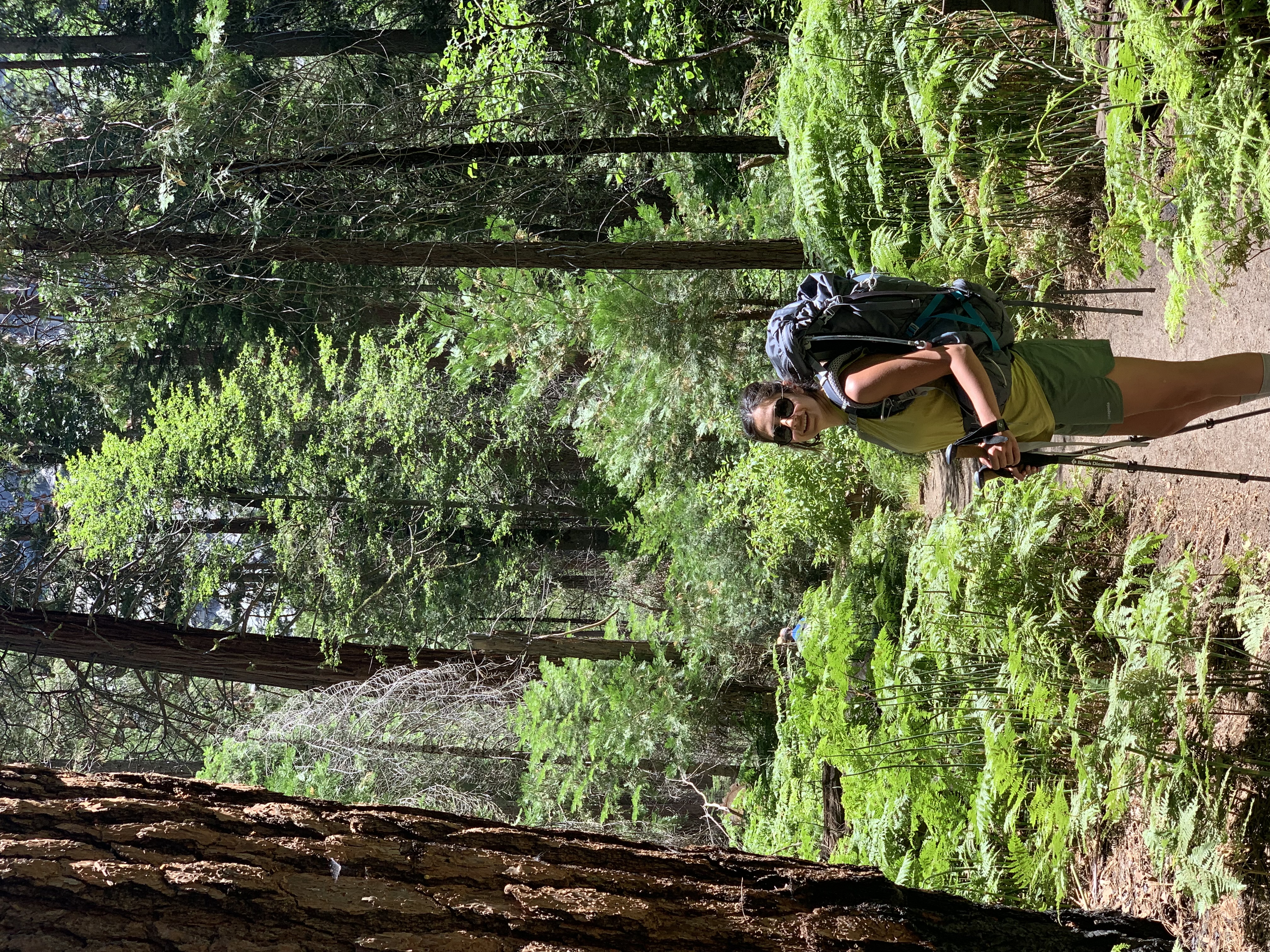 Background & Education 
I grew up in Iran, went to Shiraz University of Medical Sciences and moved to San Diego early after graduating medical school. I then moved to Los Angeles and got involved in psychiatry research projects at Charles Drew University while studying for USMLEs and preparing to apply for psychiatry residency. Prior to residency, I was a postdoctoral scholar for the UCLA NIH T32 Training Program in Translational Neuroscience of Drug Abuse (TNDA) during which my interest in research and addiction psychiatry solidified (Thanks to my amazing mentor, Dr. Edythe London). After completing my PGY-1 training at UCLA-Kern psychiatry residency program, I joined UCSD and moved back to San Diego where it came full circle for me. So, where am I from?! I am originally from Iran and San Diego feels like home!  
I went to medical school to become a psychiatrist with appreciation for the unique opportunity that this field offers:  making deep human to human connections while fulfilling my intellectual scientific curiosity for human behaviors, with many opportunities to "make a difference".  
Career Goals/Interest within Psychiatry 
I am interested in addiction and integrative psychiatry, psychotherapy and research! My PGY4 selectives are focused on these areas which has allowed me to build connections and meet amazing mentors in the field who are helping me navigate my [very near!] future career options.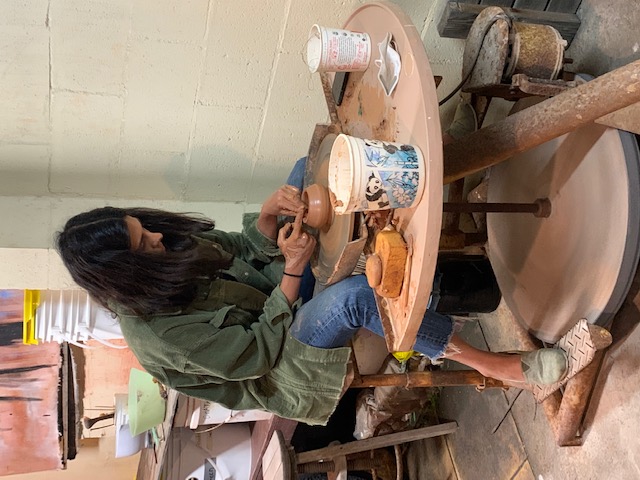 PGY-4 Senior Positions: 
Jul-Dec: VA SD Outpatient, South County 

 

Jan- June: Substance Abuse Recovery and Rehabilitation Treatment Program (SARRTP)

 

 
Average weekly hours 
average 40 hrs/week

 

no call! (pinch me)

 
Typical Week 
SUNDAY 
AM: I attend an online Rumi poetry session in Farsi- I find it very interesting to come upon similarities in modern psychology and ancient life lessons in the form of poetry! If I spend the weekend in San Diego, either before or after the Rumi Class, I will often go for a 5K run followed by a short meditation practice by the ocean. Coffee from a local coffee shop is the last ingredient for my Sunday AM euphoria! I am in my best mood if you run into me on a Sunday morning after the run, meditation, Rumi session and coffee.  
PM: I enjoy working on research related activities (writing/reading) without other work-related distractions. Otherwise, it's a chill night cooking dinner and watching movies with my partner. 
After years of having weekend calls and a newly found passion of mine for hiking/camping (happened during COVID19 Pandemic and the lockdown), I have been very excited to have all weekends off during PGY4! San Diego is a perfect location for hiking/camping enthusiasts and has a lot to offer within a few hour drive including Anza Borrego, Julian and Idyllwild. If it's a long weekend, my partner and I drive further around or hop on a flight to go to a further destination (because remember, PGY4s have all holidays off). So, it is very likely that I am wrapping up one of these short trips on a Sunday and driving/flying back to San Diego while listening to a Farsi podcast.  
MONDAY 
AM: I typically wake up at 6:30 then head to Kearny Mesa VA Clinic for a full day at the Substance Use Disorders Clinic starting at 8 am. This is the longest commute of my week which is about 8 mins! It will be about a 20 min drive to La Jolla when I start SARRTP rotation in January.  
I have been learning motivational interviewing from my supervisor and practicing the techniques as I see patients mostly for medication management.  
PM: I get home by 6 pm, have dinner with my partner and may go on a short run before I go to bed.  
TUESDAY 
AM: I have a smoking cessation clinic on Tuesday mornings and start the day setting up my home office as it is currently all virtual. I'll discuss medication management strategies with my supervisor. My favorite part is attending a psychotherapy group for patients who want to quit smoking. It is rewarding to observe patients achieve their goals and support one another, while I learn more about addiction psychotherapy and get inspiration for research ideas. I often find time to review literature and work on research related activities as well! I was not part of the research track and have waited patiently for PGY4 to be able to dedicate more time to research. PGY1-PGY3 of the categorical track often gets too busy with clinical duties and makes it challenging to find time for research.  
I take a break at noon to prepare a quick lunch and will have it on the patio under the sunlight  where I have  lots of plants! I will water my plants too. Basically, we'll all have lunch together!.  
PM: I start my afternoon by joining Dr. Lang's laboratory virtual meeting where ongoing projects are discussed. Dr. Lang's research primarily focuses on the use of complementary and alternative medicine to treat mental health disorders which aligns well with my interests. As I am considering a research fellowship in the intersection of addiction and integrative psychiatry, Dr. Lang has become a wonderful mentor for me. I am currently working on drafting a review article and most of my Tuesday afternoons are spent on reading articles and writing.   
I sometimes take breaks to do a short mat pilates workout or go for a quick swim at the pool in our apartment complex where I live with my partner, and often find myself working on my laptop well past sunset having lost track of time. Overall, I enjoy the flexibility to work at my own pace on Tuesday afternoons.  
WEDNESDAY 
AM: Wednesday mornings I work on my Independent Study Project (ISP). Most residents who are not on the research track work on projects that do not require much time to complete. However, for those who have a strong interest in research and want to work on more ambitious projects, research selective is offered during PGY3 and PGY4 which can be dedicated to ISPs. I have mostly been working on writing proposals and  submission processes to get funding and the necessary approvals. I have most of my research related meetings scheduled on Wednesday mornings. 
I'll have a home cooked brunch before heading to my afternoon clinic. 
PM: The commute to the VA PTSD clinic is 5 mins from where I live! I get there by noon to chart review my patients and will start seeing patients at 1 pm. I have one hour blocked for psychotherapy, and 1 hour for clinic meetings and educational activities including journal club presentations. I finish seeing patients at 5 pm and stay a bit longer to complete note documentation.   
After work, I may go for dinner or a night hike with friends! Yes, there are a few trails that are still crowded enough after sunset to make me feel safe. The most popular one is Cowles Mountain Trail which is a 3.0 mile out and back trail with a nice view of the city at the top!  
THURSDAY 
AM: Thursday mornings are didactics time! All Thursday morning lectures are currently virtual. After the first lecture, each class has their own didactics until noon. 
PM: Contingency management clinic has become a favorite selective for me. I may drive to the VA or meet my supervisor virtually from home. The clinic is just opening up. So, I am learning about the behind the scene processes on how to run a new clinic!  Additionally, we are working on a commentary article and most of my time is spent reading articles about contingency management, brainstorming with my supervisor and writing.  
I will then have a light dinner at home and head out for pottery class. This is basically a 3-hour therapeutic meditation session for me!  My favorite sessions are the first sessions of each course- that's when I get to see the pieces I made in the prior course all glazed and shiny!  
FRIDAY 
AM: Another 5 minute commute to the PTSD clinic! I get there at 8 am and usually start seeing patients at 8:30. My favorite part is the 10-11 am weekly meeting, where psychotherapists discuss interesting or complicated cases or any other issues that have come up during the week. The meeting starts with a wellness activity which could be anything like sharing recent vacation photos,  an invitation to reflect on points of gratitude in your life or a short meditation, followed by acknowledgement of colleagues and sharing success stories of the week. I'm usually done with notes by 1 pm and will head out to home for another afternoon of flexible research work. 
PM: I have a different research mentor on Friday afternoons whose work focuses on examining the effects and understanding the mechanisms of self-regulatory approaches such as mindfulness. I will get to work at the lab for a full month in December, and for the time-being, I am working on writing a proposal for a pilot study. 
SATURDAY 
AM: I'm probably out of town on a short weekend trip! But if I'm in San Diego, I will start my day by some outdoor physical activity such as hiking, inline skating or running by the ocean.  
I will call it "the best day of my life" if: 
I wake up early to watch the sunrise at the Mission Bay, and go inline skating with my partner- Campland to Crownpoint and Bayside Walk is a good one for skating- and then have breakfast at a local cafe at Mission Beach or Pacific beach along the trail.  
Later in the morning we usually do grocery shopping- sometimes at the Farmer's market right by our apartment.  
PM:  Most of the afternoon is spent running some errands, cooking  and cleaning the house until late afternoon, and end the day by watching a movie at home or trying out a new restaurant with my partner. We mostly eat plant-based food and San Diego's food scene has not disappointed!